In Dubai, anything is possible. If you walk around the emirate of Dubai, you will see that you come across all kinds of birds: influencers in full tax exile, billionaires driving luxury cars and even a character straight out of a fairy tale. Last year for Halloween, the youtuber Rhyzordie used all his genius to walk around the city like Aladdin, Disney version. Thanks to a few ingenious tricks, he was able to fly over roads and even water on a mat.
A not-so-magical carpet.Unfortunately, current technology doesn't allow you to build a real magic carpet, and even the hoverboard in Back to the Future is still not perfect. So to make this ride possible, Rhyzordie rode a carpet on an electric skateboard and was able to cross the Dubai souk as if he were flying.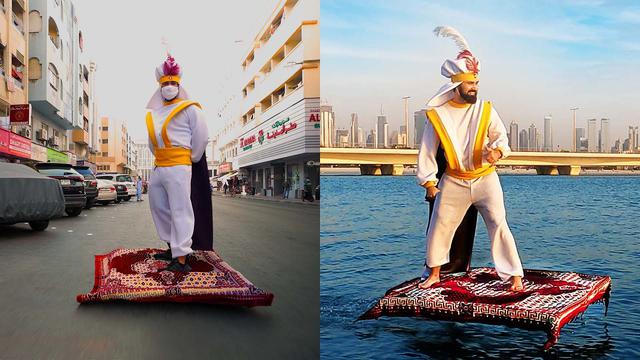 For the aquatic sequence, Rhyzordie used an electric board equipped with a foil to mount the structure with the mat. Only downside, to shoot this sequence he had to train for hours, which made him drink the cup many times. But once he got used to the exercise, he was able to get started and surf like a prince from the Thousand and One Nights.
This blue dream.For information, Dubai is not the original place where the tale takes place, but the city remains fascinated by Aladdin. A few years ago, a large-scale architectural project was launched in the city to build three large towers reminiscent of the genie's lamp. They were to be completed before 2018, but no news since. Even in Dubai, the city of all excesses, certain projects must remain dreamlike.
Find Rhyzordie on Instagram and YouTube.
Credits to One: Rhyzordie