The town of Ducey (Manche) already had a castle… Now it has a mansion: Le Manoir de Ducey.
This is the name chosen by Joseph Sims and Guillaume Rieunier, two friends and partners, for their luxury establishment, near the bay of Mont-Saint-Michel (Normandy).
Also read
Joseph Sims is from Vezins. After business studies in London, continued in Bordeaux, he met and worked with Guillaume Rieunier, in the digital sector, for five years.
One day we wondered what we were doing there, we wanted something real. Ducey was made for us.
Joseph Sims and Guillaume Rieunierthe owners of the Manoir de Ducey
Ducey has assets
There was the property of course, but the fact that Ducey is a Stopover Village, Green Station, located less than five kilometers from the highway and that it has five restaurants and bars were decisive in our project.
Joseph Sims, one of the two owners of the Manoir de Ducey
"The proximity of Ducey to Le Mont-Saint-Michel, 20 minutes by road and the cycle path that leads to La Merveille, also makes it one of its major assets", argues Guillaume Rieunier, also very smiling.
Also read
Four levels of 100 m2
The size of this bourgeois house, from the end of the 19th century, is impressive.
On four levels of 100 m2, it rises majestically. Enclosed by walls, the 1,400 m2 garden features a heated swimming pool with shower and a terrace.
On the ground floor and from the entrance, the tone is set with shades of deep blue, which contrasts with the original staircase, in waxed wood.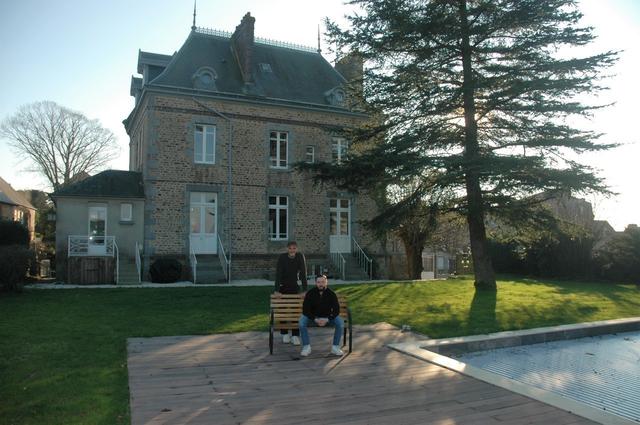 Also read
"We called on an interior designer friend to decorate the house," explains Joseph Sims. On this floor, the dining room in light tones opens onto a living room where an oversized Chesterfield sofa invites you to laze around. The kitchen is gigantic and bright, equipped to delight the taste buds.
Six bedrooms, four bathrooms
The first and second floors are dedicated to bedrooms.
The Manor has six bedrooms, a dormitory for children and four bathrooms.
Guillaume Rieunier owner of the Manoir de Ducey with Joseph Sims
Here again, the touch of the interior designer is felt in the choice of materials and colors. Refinement and comfort are the key words.
Also read
Swimming pool, spa, billiards…
In the basement, a billiard room, a jacuzzi, sauna and massage table and a meeting room.
"With Guillaume, we are working to develop our offer to companies," says Joseph Sims.
On all four levels, Le Manoir de Ducey is bathed in sunshine, thanks to its double east-west exposure.
Also read
Open to companies
In high season, the price per week is €5,000, it may seem expensive, but divide this sum by 16 people and by 7 days... I'll leave it to you do the math.
Guillaume Rieunierowner
Either €44.64 per person and per day.
"We want to work with local players. In high season, we offer a packed basket, from an Avranches store," continues Joseph Sims.
Also read
This new tourist offer should delight the most demanding holidaymakers looking for calm and a comfortable stay in the bay of Mont-Saint-Michel.
The Manor of Ducey, rue de Les Chéris, 50220, Ducey-Les-Chéris. Email: contact@lemanoirducey.com; 06 64 13 27 43.
Was this article useful to you? Note that you can follow La Gazette de la Manche in the My News section. In one click, after registration, you will find all the news of your favorite cities and brands.
Share